Time Zone
Indonesia Standard (Sulawesi, Bali, Nusa Tenggara, South Kalimantan, East Kalimantan and North Kalimantan)  Time is 8 hours ahead of Greenwich Mean Time (GMT+8).
Language
The official language of Indonesia is Indonesia Language.
Electricity
Voltage: 220-240 Volts (U.S./Canada are 110-120 Volts)
Primary Socket Types: Euro, Schuko, British
Currency
The Republic of Indonesia unit of currency is the Rupiah (Rp).
The current rupiah consists of coins from 100 Rupiah up to 1000 Rupiah (1 Rupiah are officially legal tender but are effectively worthless and are not circulated) and banknotes of 1000 Rupiah up to 100,000 Rupiah. With US$1 worth 13,363 Rupiah (Februari, 2017), the largest Indonesian banknote is, therefore, worth approximately US$7.50
Foreign currencies can be exchanged at government-designated banks and money changer.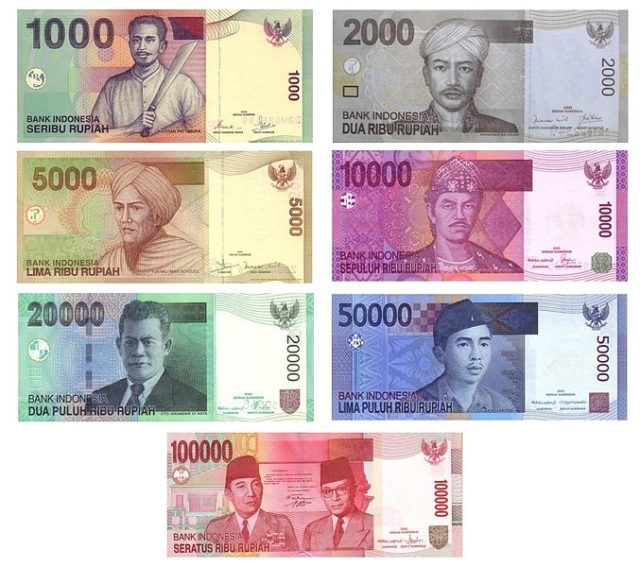 Image Source: https://en.wikipedia.org/wiki/File:Indonesian_Rupiah_(IDR)_banknotes2009.jpg
Accommodation and Flight Information
Hotel Belle Etoile (***)
Jl. Pantai Pede, Labuan Bajo, Flores, Indonesia
Website: http://labuanbajo-flores.com/labuanbajo-hotels-resto/labuan-bajo-pede-beach/102-hotel-la-belle-etoile.html
La Belle Etoile Hotel is located on the Pede Beach, on the same direction of Jayakarta resort, this hotel also a beachfront hotel, Own by European and with the European standard of hotel services.
This hotel is about 15 minutes walk from the town of Labuan Bajo, an ideal place for relaxing after Komodo tours or after long journey overland Flores Island.
The facilities including Wifi, room services, laundry, shuttle services and breakfast included.
The rooms with hot shower and air condition, it has a perfect view of the Labuan Bajo bay and spectacular sunset just at the front of this hotel
Room Rates:
Superior Room: Rp. 550.000/night/single or double including breakfast
Standard Room: Rp. 750.000/night/single or double including breakfast
Hotel Bajo Komodo Eco Lodge
http://labuanbajo-flores.com/labuanbajo-hotels-resto/labuan-bajo-pede-beach/89-bajo-komodo-eco-lodge.html
The Bajo Komodo Eco Lodge is located near Labuan Bajo on Flores. It is an ideal place to base yourself for visits to Komodo National Park, or for diving or snorkeling.
Bajo Komodo Eco Lodge has developed environmentally friendly buildings with the use of solar power for hot water, an extensive rainwater storage system, and the use of a biological sewage treatment plant where all waste water is returned to the gardens through irrigation. The Bajo Eco Lodge is under control of Iniradef nonprofit organization where to participate in developing the human resources in the area and also building the natural environment conservation. This program has fully accepted by locals
Rooms
The Lodge contains 6 tastefully decorated guest rooms.
Each room contains the following amenities:
* Air Conditioning and fan
* Hot Water
* International Direct Dial (IDD) Phone Service
* Coffee table
* Comfortable chairs
* Western-style toilet and shower
* Bottled drinking water supplied
* Complimentary 24-hour coffee and tea from a central location
* Mosquito net and screens
* Mosquito repellant plug
Room Rate:
US $ 100/Night Including Breakfast
High Season Surcharge USD 15 apply from July 01st till September 30th and December 15th, till January 15th.
Airport Transfer: US $ 15 Person Oneway
Hotel Puri Sari Beach
Website: http://labuanbajo-flores.com/labuanbajo-hotels-resto/labuan-bajo-pede-beach/84-puri-sari-hotel.html
Puri Sari Beach Hotel is only 15 minutes drive from Komodo Airport of Labuan Bajo and 30 minutes walking distance to the city shopping area and traditional local Market.
Puri Sari Beach Hotel – Best Resorts in Labuan Bajo, and It's a quiet, secluded beach retreat on the western tip of the island of Flores, on a 350-meter stretch of the beautiful Pede Beach on the outskirts of Labuan Bajo. All rooms in this four-star hotel have a private balcony with garden and sea view and are equipped with air-conditioning, Western toilet and shower with hot water.
With its stunning outdoor swimming pool and superb open-air restaurant, this hotel was designed in harmony with the natural environment, blending modern amenities with elements of traditional Western Flores architecture. All 21 rooms have been decorated to the highest standard, combining natural colors and a unique wood textures.
Location
Situated in Labuan Bajo, Puri Sari Beach Hotel is the perfect place to experience Labuan Bajo – Flores and its surroundings. With its location just 2 km from the city center and 2 km from the airport, this 3-star hotel attracts numerous travelers each year.
Room Rate:
Deluxe Room: USD 100/night including breakfast
High season surcharge: USD 20/night including breakfast
Puri Sari Beach Hotel & Restaurant
Seaside and beach
All rooms have a beach view
Downtown (at Pede beach)
4 km distance from the airport
3 km distance to the tourist center
Service and Facilities:
* Tour desk
* Money change
* Laundry
* Airport pick up service
* Restaurant and Bar
* Garden
* Hotel beach
* Beach access
Hotel Bintang Flores
website: http://labuanbajo-flores.com/labuanbajo-hotels-resto/labuan-bajo-pede-beach/86-bintang-flores-hotel.html
The Bintang Flores Hotel is a four-star hotel situated in Labuan Bajo, Flores, Indonesia. Located amid spacious grounds fronting a private beach, The Bintang Flores Hotel is both a destination in its own right and a convenient staging area for visits to nearby Komodo Island and world-class dive sites along the coast of Flores.
The Bintang Flores Hotel is a five-story hotel set in a spacious tropical garden. Drawing on Indonesian architectural influences, The Bintang Flores Hotel combines local style and charm with modern conveniences and international standards of service. With a large swimming pool and private white-sand beach, the hotel offers complete water-sports facilities in a protected environment suitable for families.
The hotel has many amenities not usually found on Flores – a resort style pool and beach looking out towards Komodo National Park, a fitness room, internet room, with PCs and a printer, small retail shop, and an open-air restaurant.
DELUXE ROOM
All deluxe rooms are 32 square meters, equipped with a king-size bed and twin bed, 21″ satellite TV, safety deposit boxes, tea- and coffee-making facilities, mini-fridge, IID Telephone and individual air conditioning.
Location: 1st, 2nd, 3rd, 4th and 5th
DELUXE SUITE
Deluxe one-bedroom suite is 64 square meters, equipped with a king-size bed, 21″ satellite TV, safety deposit boxes, tea- and coffee-making facilities, mini-fridge, IID Telephone and individual air conditioning.
Location: 3rd and 4th Floor
NOTE:
Ground-floor rooms offer direct access to the garden, while those on higher floors provide a spectacular view of the Flores Sea.
ROOM & RATE
Superior Room: USD 75/night/single or double including breakfast
Deluxe Room: USD 100/night/single or double including breakfast
Suite Room: USD 175/night/single or double including breakfast
Bintang Flores Hotel is highly recommended for travelers looking for a touch of luxury and service at international standards.
Flight Information
Jakarta-Labuan Bajo :  
| | | | | |
| --- | --- | --- | --- | --- |
| Airline | Departure | Arrival | Duration | Frequent |
| Garuda Indonesia – GA 452 | 10:05 (WIB) | 13:35 (WITA) | 2h 40 m | |
Bali – Labuan Bajo :
Airline
Departure
Arrival
Duration
Frequent
Wing Air Abadi
08:00
09:15
1h 15 m
12:50
14:50
1h 20 m
13:55
15:15
1h 20 m
Nam Air
14:00
14:55
0h 55 m
Garuda Indonesia
07:30
09:05
1h 35 m
10:50
12:25
1h 35 m
14:55
16:25
1h 30 m
Visa Waiver
Indonesia allows visa-free entry to the citizens of 15 countries. The nationals of these countries who are going on holiday, attending conventions or engaging in similar such activities are allowed to stay in Indonesia for up to 30 days without a visa. The visa is not for employment and is not extendable.
The citizens of the following countries are eligible: Brunei, Cambodia, Chile, Ecuador, Hong Kong SAR (Special Administrative Region), Laos, Macau SAR (Special Administrative Region), Malaysia, Morocco, Myanmar, Peru, Philippines, Singapore, Thailand, and Vietnam. These visas cannot be extended or converted to another type of visa.
Visa on Arrival
All visitors entering Indonesia by way of visa-on-arrival must have a return to point of origin, or onward destination ticket on their person when passing through immigration into the country (E-tickets are acceptable), or be able to present sufficient evidence of the means to obtain one to an Immigration official. This is often checked, and visitors who are unable to fulfill this requirement may be denied entry.
Visas on arrival can be issued to nationals of Algeria, Argentina, Australia, Austria, Argentina, Bahrain, Belgium, Brazil, Bulgaria, Cambodia, Canada, China, Cyprus, Czech Republic, Cyprus, Denmark, Egypt, Estonia, Fiji, Finland, France, Germany, Greece, Hungary, Iceland, India, Iran, Ireland, Italy, Japan, Kuwait, Laos, Latvia, Libya, Liechtenstein, Lithuania, Luxembourg, Maldives, Malta, Mexico, Monaco, Netherlands, New Zealand, Norway, Oman, Panama, Poland, Portugal, Qatar, Romania, Russia, Saudi Arabia, Slovakia, Slovenia, South Africa, South Korea, Spain, Surinam, Sweden, Switzerland, Taiwan, East Timor (Timor-Leste), Tunisia, Turkey, United Arab Emirates, United Kingdom, and USA for a maximum of 30 days, generally extendable once only for another 30 days at a local immigration office inside Indonesia.
Obtaining a visa from an Indonesian embassy or consulate before traveling is also possible and will allow you to go through the immigration channel for visa holders rather than the sometimes congested VOA and Visa Waiver channels at the immigration check-points. Pre-issued visas for tourism, social and business visits are normally issued for a period of up to 60 days visit duration.
Visa on arrival fees: A visa on arrival is issued for a stay of up to 30 days, the cost is US$35, but can be paid in all major currencies. In general, the VOA is extendable once for an additional 30 days. This can be done in an immigration office inside Indonesia for an officially published fee of IDR250,000, it is recommended to do this ten days prior the visa expiration date. No other currency is accepted at the immigration office. the fee is IDR250,000 paid in cash.
How to get a visa on arrival :
Before arriving, fill in the arrival/departure card provided to you. This card will be your visa application form.
When you arrive, go to the bank counter and pay the required amount for your visa. You will be issued a bar-coded receipt.
Take the receipt to the Visa on Arrival counter where your arrival/departure card, passport, and receipt will be recorded by the officer. A visa sticker will be issued and stuck in your passport.
Proceed to the immigration counter for your passport to be stamped.
As always, there may be variations to this layout, especially at the smaller points of entry. Bank and visa counters may be placed together. Anyhow, your visa must be applied for before you reach the immigration counter.
Upon arriving, the arrival card will be detached from the departure card by the immigration officer, and you will have to keep the latter until you depart from the country to avoid any troubles later on. Make sure that the departure card is stamped with the correct number of days of your stay.
Visa before Arrival
Nationals of countries not listed above are required to apply for visas through the nearest Indonesian Embassy or consulate. Single-entry visas are valid for 60 days and fairly routine if pricey at US$50-100 depending on the individual country and prevailing exchange rates. Multiple entry visas are also available but, as the issuance policy varies in different embassies and is occasionally changed, it is best to inquire at your nation's embassy well in advance of departure. Normally, Indonesian embassies and consulates stipulate 3-4 clear working days for processing; however, applications may take at least one week to be processed.
The citizens of 15 countries need to obtain an approval from the immigration services head office, the Direktorat Jenderal Imigrasi in Jakarta. The 17 countries are Afghanistan, Israel, Albania, North Korea, Angola, Nigeria, Pakistan, Cameroon, Somalia, Cuba, Ethiopia, Tanzania, Ghana, Tonga, Iraq.
Those affected must have a sponsor in Indonesia, either personal or company. The sponsor must go in person to the Immigration Head Office in South Jakarta (Jakarta Selatan) and must produce a photocopy of applicant's passport, a supporting letter, and the applicant's photograph. When it is approved, the Immigration Head Office will send a copy of approval letter to the applicant.
Also Visit: Indonesia Immigration Service Web